PHP 150
Jackie Collins, Joan Collins, Mario Puzo, Jackie Weger, Marabel Morgan, Robert Tine Books etc..
Assorted books for Php 150 each! Buy 2 and get it for Php 250 Buy 3 and get it for Php 300 Includes: 1.Rooftops by Robert Tine 2. Beneath a Saffron Sky by Jackie Weger 3. Total Joy by Marabel Morgan 4. Heiress by Janet Dailer 5. The Fourth K by Mario Puzo 6. Chances by Jackie Collins 7. Lovers and Gamblers by by Jackie Collins 8. A Novel Prime Time by Joan Collins 9. Voice of Heart by Barabara Taylor Bradford 10. The Sadist Hunters by Courtney Browne 11. Common Errors Corrected by Bettina Barron 12. Better composition by Harry Shefter
Ask your seller for delivery. Stay safe at home. Listed by booksinthelibrary
Very Responsive
Verified
Check seller profile
Reviews for booksinthelibrary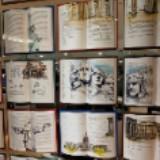 Quick and easy transaction. Thank you for the book!