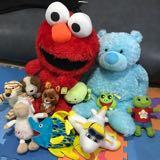 Mary Go
@meanthony
4.5
(15)
Quezon City   ∙   Joined 4y 4m
Verified
Delivery modes: Grab rate J&T rate Payment modes: BDO Palawan
Reviews
4.47
(15 Reviews)
shashia

.

review from buyer

3 years ago

we already had an aggrement(offer submitted/ seller approved) then she sell it to another buyer..repeatedly asking bout her details though, ilang araw akong naghintay sa reply..

thank u so much po. esp sa freebies... items are great... the toy is 'like new' :)

thank you😊the item is really in good condition,mapacenxa c seller for the meet up.madali kausap😊thanks!

jen_mom

.

review from buyer

3 years ago

Item does still look new and I got it at a low price. Thank you so much. I'm happy with my purchase😊

Thank you sis super nakatipid ako and sobrang bait mo... Blessed buyer here.. God Bless you! :) sa uulitin po

Sobrang bait and considerate ni seller nung meet up, yung item maganda pa, grabe di ako nadisappoint since first time ko gamitin tong app na to.

good catch for only 650 :) mukha pang bago un item. thank you so much

magz03

.

review from buyer

4 years ago

Ang bait ni seller at ang daming pa freebies.. Ang ganda din nung bag, super like 😍😍.. Thank u po, till our next po

thanks for a smooth trans! okay sya for my son and travel friendly stroller. thank you po 😊

Great seller to deal with, Had a pleasant transaction. Thank you very much!